Rustic homes are all the rage right now. Everyone is in love with that worn, farmhouse look with a modern feel. And who can blame them? Farmhouse is a beautiful trend that has a timeless feel. Rustic farmhouse homes are meant to be warm and comforting, and that is what we do best down here! Secure Built builds some of the most stunning custom rustic homes in Central Florida. recently, we completed a stunning modern farmhouse home here smack dab in the middle of horse country on Ocala, Florida.

Custom Rustic Homes in Central Florida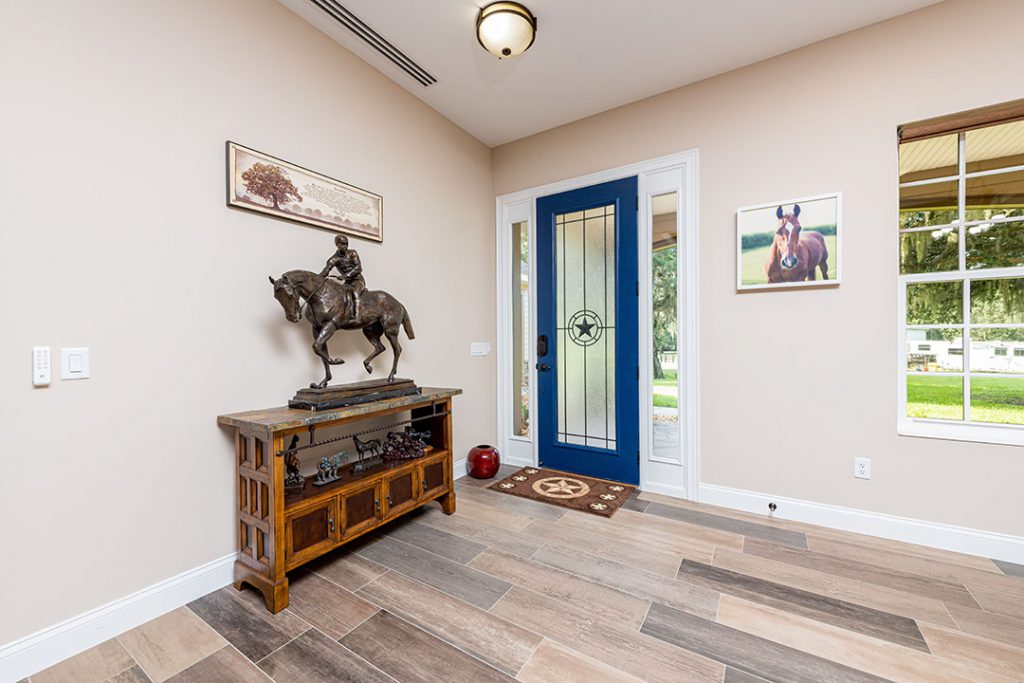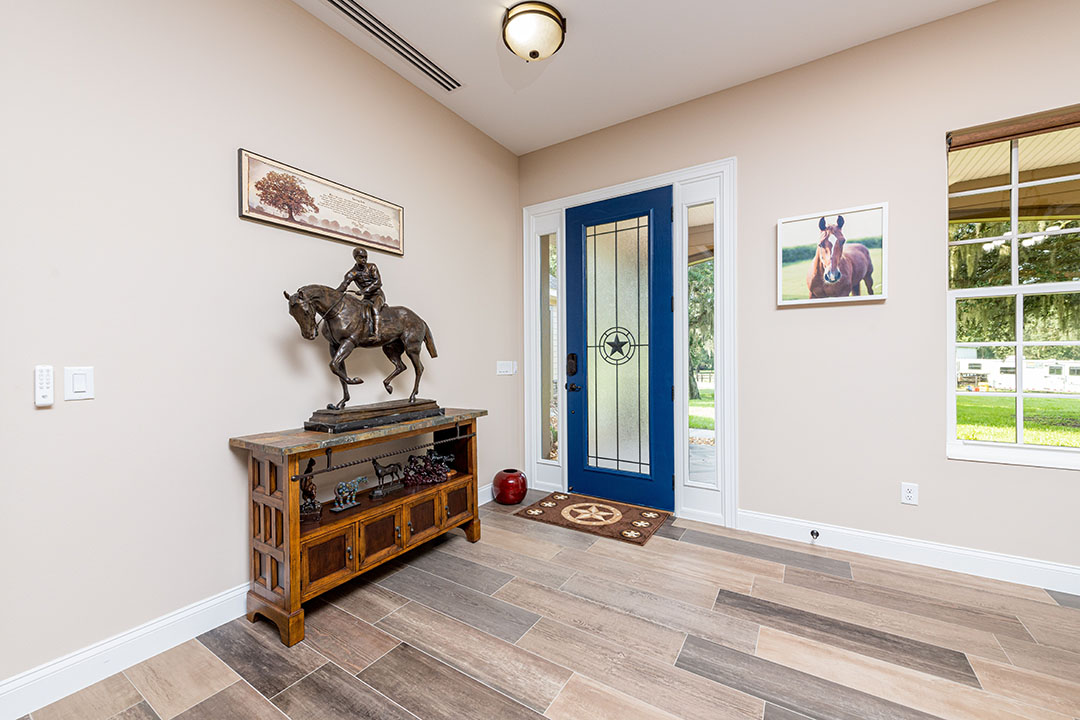 As soon as you walk through the front door of this custom rustic house, you feel immediately at home. From the stunning flooring to the windows that really let in all of the natural light, you can't help but fall in love with this home!
The decor in the entryway truly reflects the feel of this home. In the middle of horse country, the owner of this home truly shows love to the four legged family members who put this area on the map.
The front door gives the entryway a touch of color, which you will see throughout the living area of the home as we go further into this beautiful custom house tour.
Rustic Kitchen Design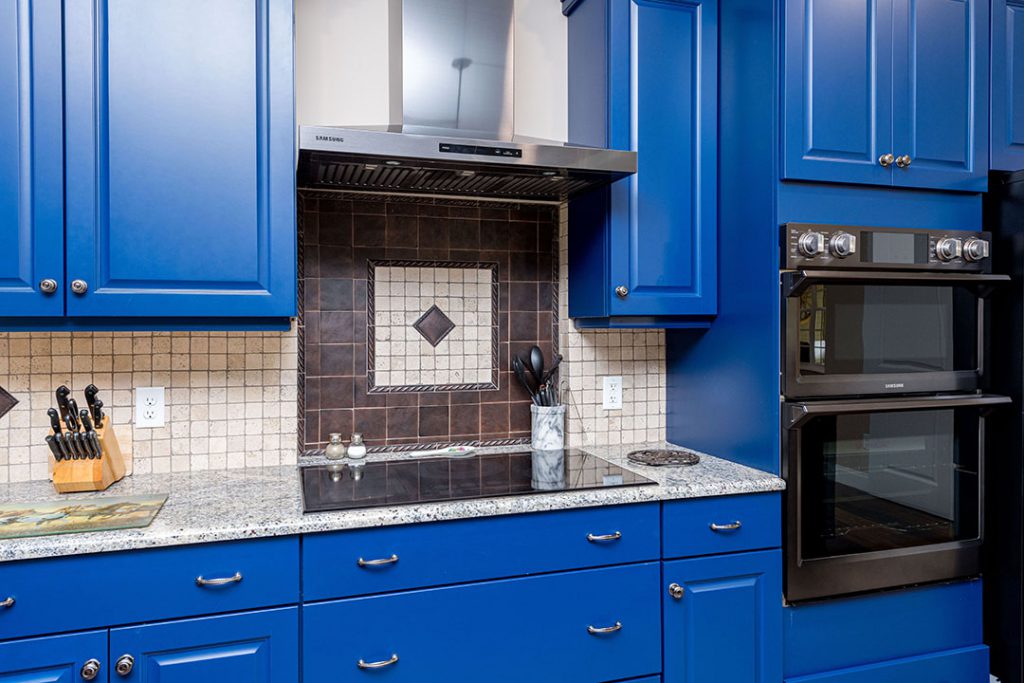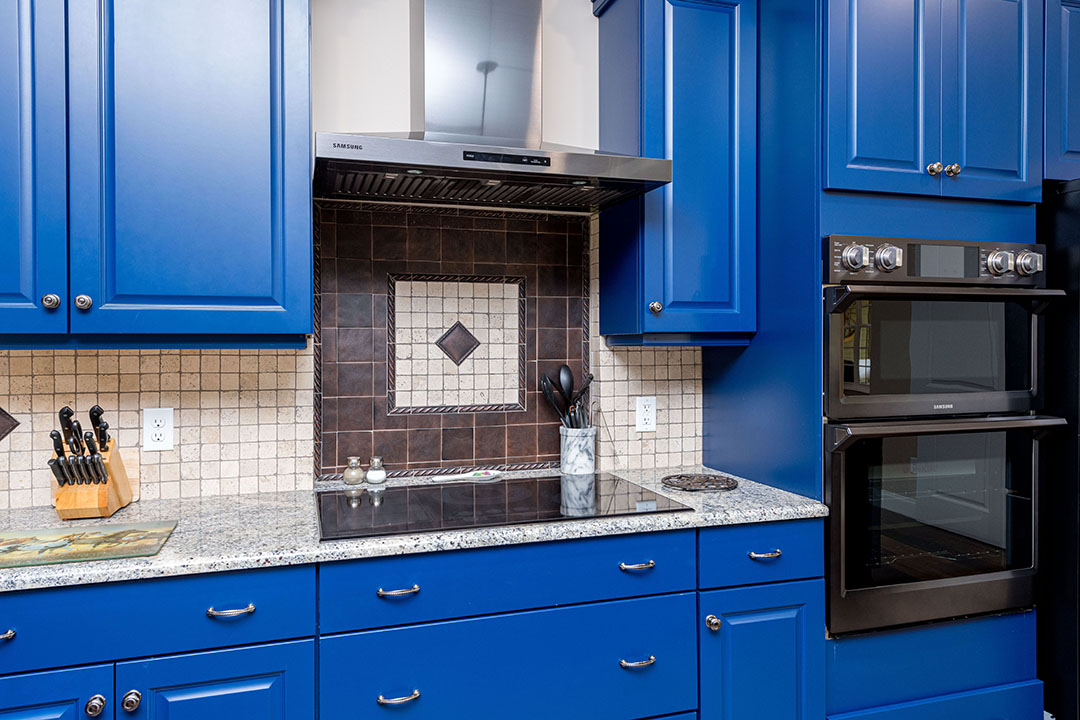 This custom kitchen is everything! As you can see, that pop of blue that you saw in on the front door continues into the kitchen with these stunning royal blue cabinets.
A beautiful granite counter top makes the space functional  and the flat top range is stylish and perfect for cooking meals for the whole family.
This rustic farmhouse kitchen design will wow guests and have you wanting to spend more time making amazing meals at home all year long!
Custom Country Bathroom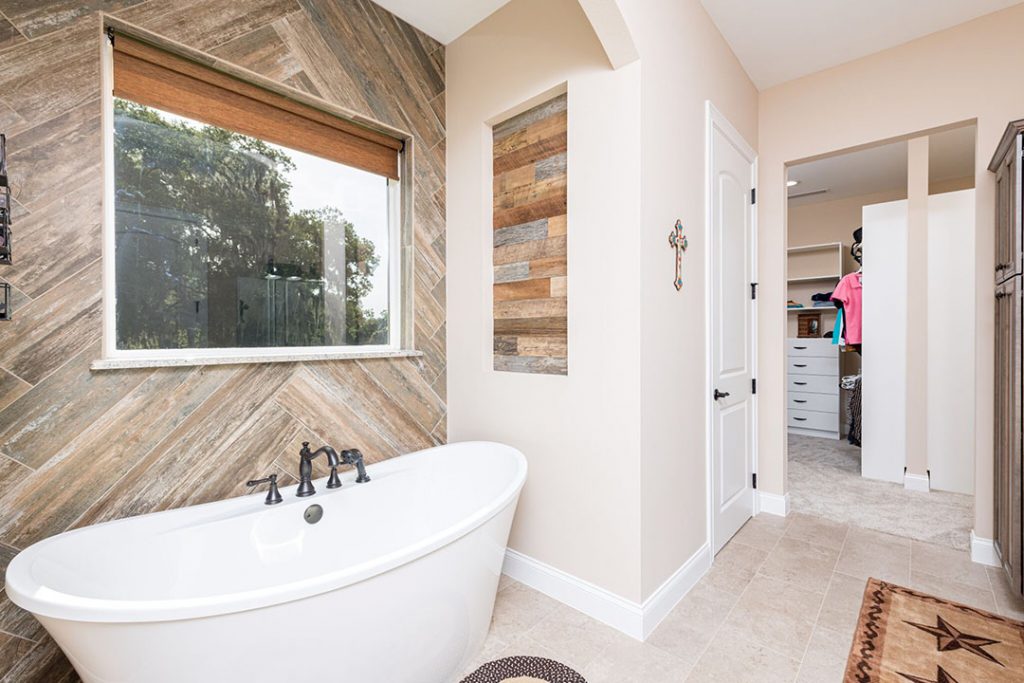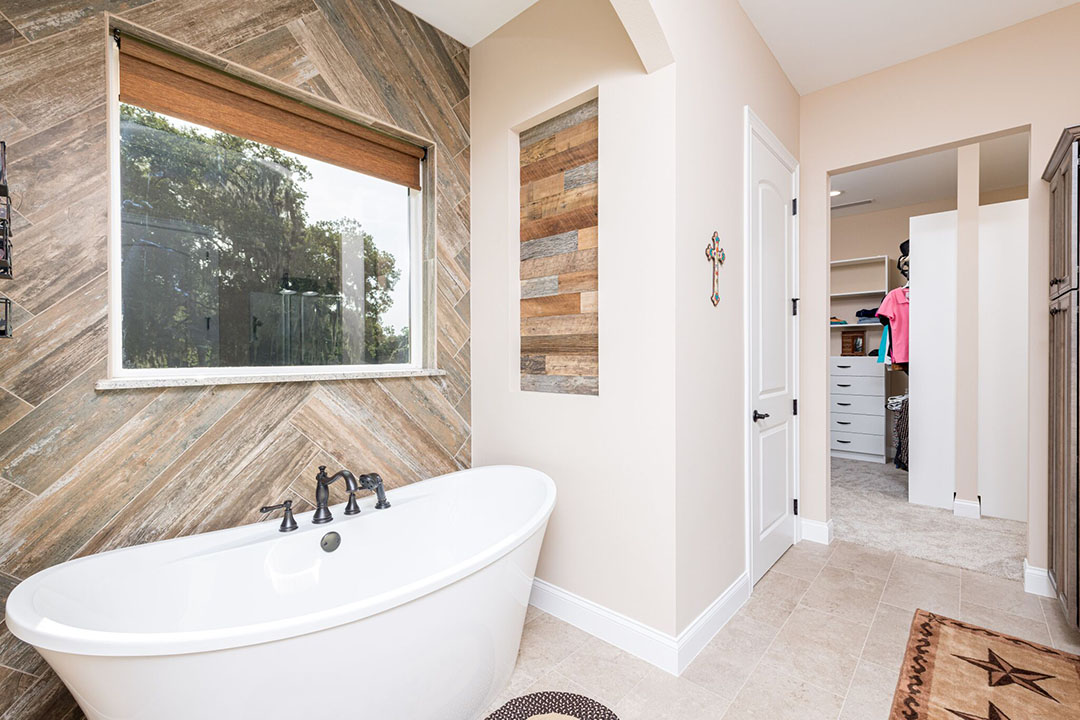 Can't you imagine relaxing at the end of a long day in this beautiful bathroom? A long bubble bath in the massive tub, perched underneath the large window, letting all of the worries of the day melt away.
Step out of your tub into this huge master bathroom and go right into the massive walk-in closet! Pay close attention to the little details too, like that pallet wall inspiration next to the tub? You may be seeing that again later!
Custom Pallet Wall Bedroom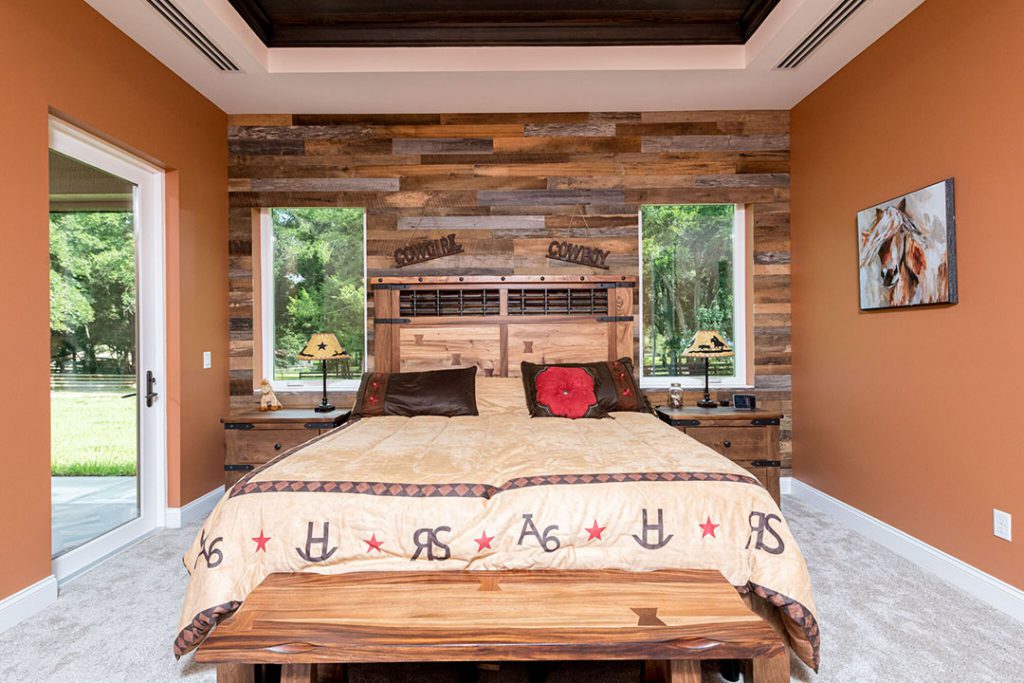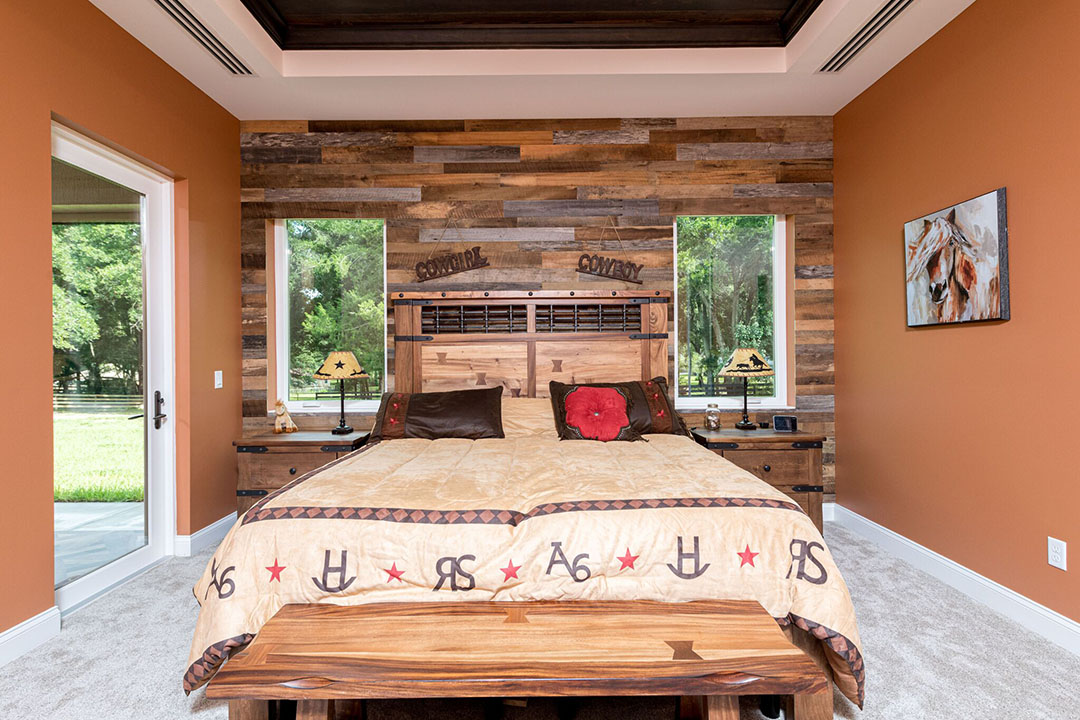 Remember I said to hold onto that little piece of pallet wall from the bathroom that you would see it again? Just take a long look at this stunning custom pallet wall in this rustic country bedroom! Along with the wooden furniture, country themed bedding, and super soft carpet, this is the perfect rustic oasis to rest after a long day.
Our favorite part? That big door leading out to the back porch!
Enjoy the View on this Farm House Porch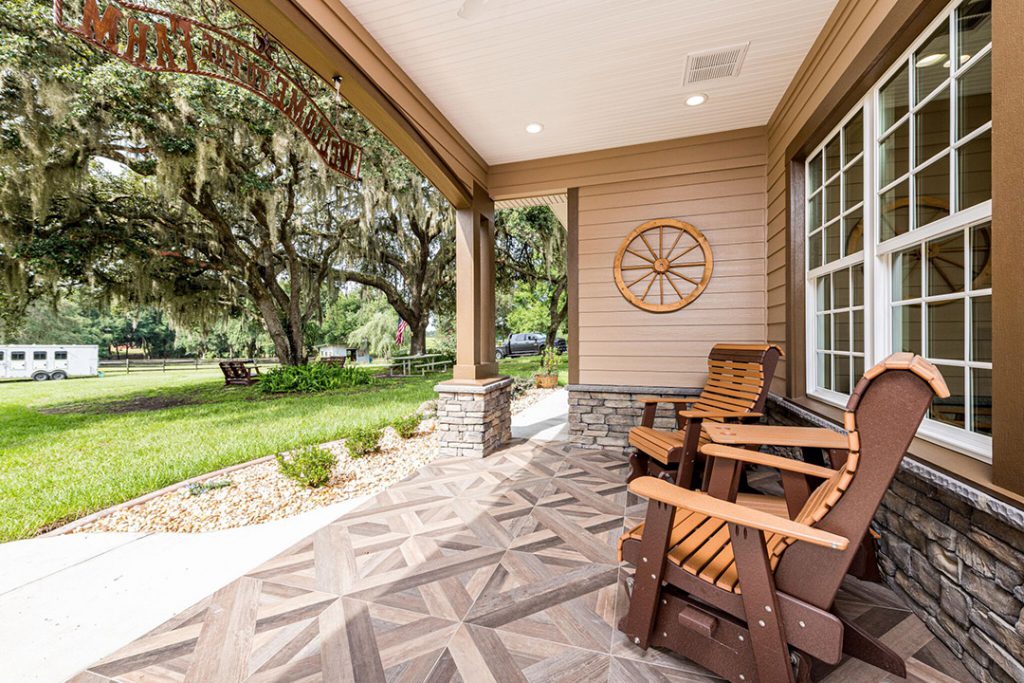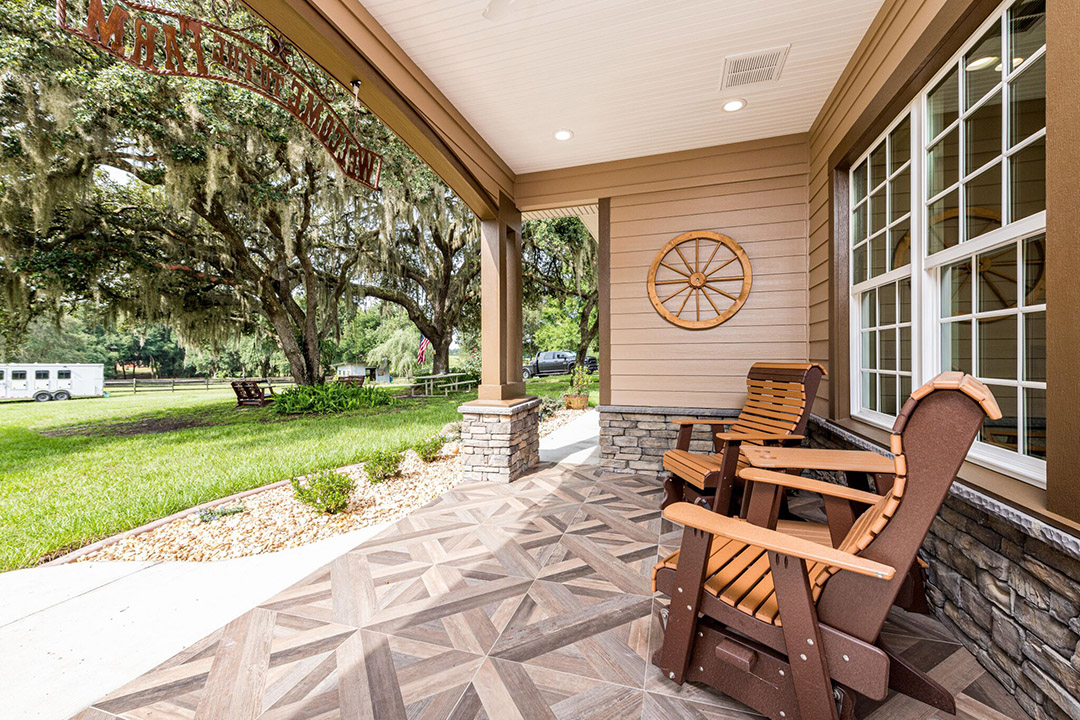 The porch is the open arms of a warm and welcoming home. This farmhouse inspired porch is the best place in the house to sit and drink a morning cup of coffee or afternoon cup of sweet tea. Enjoy time catching up with a friend and enjoy the fresh area on your own little slice of paradise.
Looking for Custom Rustic Homes in Central Florida?
Ready to start your own custom farmhouse journey? Secure Built wants to get you into the home of your dreams! Work with our team of expert custom builders and designers to create the perfect home for you. We build custom homes all over the  Central Florida area.
So when you are ready, give us a call and let's start this journey together!