We're approaching the most wonderful time of the year, and as Florida residents, we get an extra dose of holiday magic on Christmas day. As the rest of the country scrapes snow or frost from their cars, we get to live on the sunnier side of life — with our sandy beaches, crystal-water shores, unforgettable sunsets, and warm coastal air.
If you're lucky enough to spend Christmas in Florida, you're sure to witness a unique experience you won't find anywhere else.
Here in Florida, it's not just dusty ol Saint Nick figurines, and there's no Frosty the Snowman insight. Our locals find creative ways to include the essence of Florida in their decor as they deck the halls. If you're interested in decorating the Florida way, we'll show you how it's done.
A Merry, Warm, and Bright Florida Christmas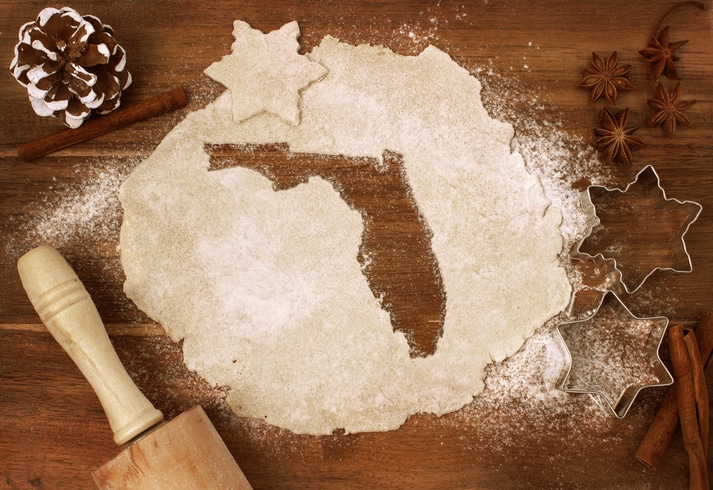 When it comes to your decor, and your festive celebration planning, Floridians take note of the natural elements that surround us. While many people dream of a white Christmas, we tend to gravitate towards the white sandy beaches.
Outdoor Holiday Decor
That being said, you don't need to fight the elements to keep fake snow on your lawn. A sandy spot with a blow-up sleigh will do, all the same.
While large fir trees may not be commonplace in Florida's landscape, we're known to have plenty of palms. Instead of lighting a Christmas tree in your front yard, consider wrapping your palm trunk in fun, festive lights. If you're tall enough, you can even hang some ornaments from the leaves.
With the temps outside hovering around a balmy 75 degrees, there is little chance your windows will catch a frost. If you're looking for that warm, cozy feel, consider creating your own frost by misting water on the corners of your windows, and blowing baby powder a-top.
If you still feel like your perfectly green front lawn is lacking in Christmas spirit, take a look in your garage to see what you can find. Perhaps you make a faux tree by leaning surfboards together. Or better yet, maybe you dress your shrubs up as coastal Mr. and Mrs. Clause. You can make an oversized naughty and nice list of all of your neighbors and friends. There is truly no limit to the creativity we see during the Florida holiday season.
Deck the Halls
When it comes to interior decor, a Christmas tree is usually the centerpiece. In Florida, we like bright colors and themed Christmas ornaments. Whether you opt for a more eclectic look with a flocked tree and bright colors, or you choose a traditional style evergreen with seashell and driftwood garland along with starfish and sand dollars, you'll be well on your way to Christmas with a Florida flair.
Instead of a gingerbread house, consider making a gingerbread boat. Hang up festive photos of reindeer wearing sunglasses and bikinis for a comedic touch. Add festive figurines as part of your food-serving platters, and string lights strategically to add that warm and cozy glow.
While most Florida homes don't have a fireplace, it may be just the right temp to have a fire out back. If that doesn't work, consider downloading a fireplace app on your smart TV to bring that cozy feeling into your living room.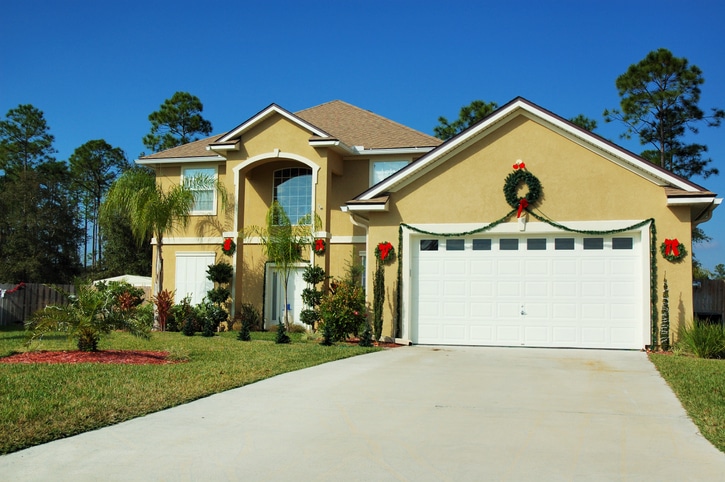 Florida Christmas Activities for the Whole Family
If you're looking for Florida Family Christmas activities, you won't need to look far. From Santa themed boat parades to Palm-tree sweater knitting contests, there is sure to be fun the entire family can enjoy.
If you're looking for a socially distanced activity, hit the beach with the family. With patience, the right mixture of sand and water, and a little holiday spirit, you can build the ultimate SandMan (think snowman built of sand, seaweed, and seashells).
Depending on what town you live close to, you can even catch a local Christmas tree lighting. Or if you head out to Universal, you can witness the magical world of Hogwarts come to life in true Christmas fashion.
If, after hearing about Florida's fun and quirky Christmas traditions, you find yourself considering making Florida your permanent home, contact the team at Secure Build to talk about a new custom or model home today.
"The "Secure" name means something in and around Ocala and Central Florida. It means an unsurpassed commitment to quality and client service. Just ask the hundreds of homeowners we have served throughout the region. Our extensive background in insurance restoration & geotechnical construction, combined with our proven professional background is what sets us apart from other custom home builders in Ocala."